Magic Mushroom Guide: Getting To Know Golden Teachers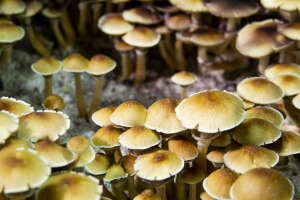 Golden Teachers — also known as Cubes, Gold Caps, and Golden Halos — are some of the most talked about shrooms on the planet. Whether you frolic in the field of psychedelics or a literal field, chances are this visionary strain of Psilocybe cubensis has crossed your field of vision.
So what's so special about the golden child of the magic mushroom kingdom, and what can it teach us about ourselves and the universe?
From shrooms visuals to shamanic life lessons, we'll cover all the Golden Teacher strain info you need to know in this comprehensive GT guide.
The pop culture icon of Psilocybe cubensis
The magic of Golden Teacher mushrooms?
How long have we consumed Golden Caps?
What will you gain from a Golden Teacher class?
Are shroom visuals and psychoactive effects safe?
How to spot a Golden Cap mushroom in nature
3 ways to munch on Golden Teacher mushroom
Golden Teacher dosage and trip duration
Dried Golden Teachers from 3 Amigos Dispensary
The Golden Teacher grow kit Canada needs
Do your Gold Cap mushrooms measure up?
Cultivate the health benefits of Psilocybe cubensis
These Canadians glow like Gold Caps mushrooms
3 Amigos Golden Teachers: Hero's journey mushrooms?
The shamanic Golden Teacher mushroom strain
The pop culture icon of Psilocybe cubensis
Psilocybe cubensis is a species of psilocybin-containing mushroom that spans the most popular strains on the market, including Penis Envy and — you guessed it! — Golden Teacher. Unlike its more phallic cousin, the Golden Teacher Psilocybe cubensis strain hasn't undergone decades of selective breeding. As such, it is often found sitting spritely au naturel atop a glorious mountain of cow manure dawning a golden conical hat.
Like other sensei of similar stature, Gold Cap mushrooms take a mellow approach to divvying out self-knowledge and ego dissolution. While they are not always as potent as their man-shaped siblings, they have likely been passed around by our ancestors as a shamanic medicine and still stand as a powerful icon for spiritual learning in modern psychedelia.
In short, GT is the OG magic mushroom, and it has seen the test of the ages. So if you'd like to trip like the ancients, make it your go-to fungi.
The magic of Golden Teacher mushrooms
From psychedelic art — and possibly even petroglyphs [1]— to popular films and series, Golden Teachers have garnered quite a reputation. But why all the fame? This fascinating fungi's magic is reflected in its name.
Before we explore GT's effects, let's examine its groovy 'Golden' dress.
The cubensis Golden Teacher sports a wide, eye-catching cap with a sturdy white stem to match. Scores of deep purple-brown spores, along with blue bruising when touched, accent its speckled, gold-colored top, making it pop as the main character of any Psilocybe cubensis gallery.
But there's more to this mycelium fruiting body than meets the eye.
Most 'magic' mushrooms contain the same psychoactive compound — psilocybin — which is proving therapeutic in the scientific community. [2] More on that later. According to seasoned trip-takers, different strains have distinct personalities despite their common entheogen. Per these psychonauts, GTs bring forth profoundly thought-provoking insights into aspects of the self — and reality itself — in the form of a 'Teacher'.
Even hippies and anarchists respect the authority of Golden Teachers through proper dosage, intention, setting, and integration. Here's how.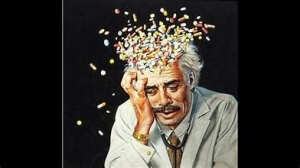 How long have we consumed Golden Caps?
The Golden Cap craze started when an ape foraged a mind-expanding way to self-medicate . . . just monkeying around! Maybe? [3] Fungi have been around far longer than homo sapiens, so it comes as no surprise that the origin of their use in sacred rituals and fun remains a mystery.
Historians have come across, however, strong evidence of multicultural ceremonial magic mushroom consumption dating back thousands of years. [4] Based on cave depictions and other clues, Psilocybe cubensis fits the puzzle perfectly. And what is its most prevalent strain? Hint: It rhymes with "fold 'em, 'seechers" (a paraphrase of Nixon nixin' drugs).
Throughout the 1900s, the Golden Teacher scientific name underwent several alterations, and ethnobotanical exploration led to excitement and interest around its therapeutic potential. The US president mentioned above did not "feel the love" and made it a Schedule 1 drug in 1970. [5]
The psychedelic movement spread like mycelium underground, and the revolushroom is starting to fruit once again . . . and stronger than ever! [6]
What will you gain from a Golden Teacher class?
If you're feeling blue or bruised, this blue-bruising professor could light your way out of the dark. And if you're feeling heroic, it could open your mind to see more of what the world has to offer. Why not pull up a chair?
Studies show that Golden Teacher's main psychoactive component can effectively treat the most severe and persistent forms of low mood, like major depressive disorder and depression from a cancer diagnosis. [7]
A study conducted at John Hopkins also found that healthy participants who took a high dose of psilocybin and experienced something 'mystical' maintained a measurable increase in 'openness' in their personality. [8]
Out with bad juju and in with new perspectives? Get this guru an apple!
And that's just psilocybin. Does the psilocybe cubensis Golden Teacher strain lead its 'students' in an even more therapeutic direction? This five-star review for Gold Cap magic mushrooms suggests that its gentle approach could make it a choice companion in mental health matters:
"I am a psychedelic psychotherapist and guide who almost exclusively uses the 3amigos Golden Teachers for when the chosen medicine of our treatment is mushrooms. I have seen immense transformation in my clients through the use of these mushrooms and so I have a great trust in their quality and the care that went behind their growing and delivery."
— Carson Kivari
According to Carson, they're tried and true, so are Golden Halos for you?
Are shroom visuals and psychoactive effects safe?
I'll get straight to the point. Shrooms alter consciousness, and that sh*t can get weird (hopefully in a good way). That said, people with specific conditions shouldn't play with hallucinatory states without supervision.
Anecdotes coming from individuals with a predisposition for manic or psychotic episodes — such as those who suffer from schizophrenia or bipolar disorder — serve as cautionary tales for shroom tripping. More research is needed, but scientific data so far suggests chances are low. [9]
Additionally, anyone with a history of seizures should steer clear until more clinical trials are completed. The beauty of this compound lies in its ability to increase brain activity. This can be bad news for epileptics. [10]
Spooky stories aside, psilocybin's physiological actions are relatively safe compared to many pharmaceuticals, and serious incidents are rare and short-lived. [11] That said, its temporary effects on cognition can cause:
Fear
Paranoia
Confusion
Anxiousness
Increase in Heart Rate
Feelings of Ego Dissolution
Surfacing of Repressed Memorie
While many people find the altered perception of color, sound, shape, and sense of self associated with psilocybin to be enjoyable, others might consider it a little too astonishing for comfort. Since the Golden Teacher strain is known to be milder than other magic mushrooms, it could be a great way to ease into these cool effects and surrender to the adventure.
Storytime! I experienced a PTSD flashback during one of my first trips. I had eaten an 8th and a half — a heroic dose — of shrooms and did not prepare my 'set and setting (I never made that mistake again!). However scary it felt in the moment, it provided me with everlasting insight into the nature of my disorder. I have since been able to process my traumas and transform my paradigm with the aid of a psilocybin Golden Teacher.
If you too have a boo-boo in your brain, you may want to check out this psychedelic therapy directory, as the profound perception, emotion, and cognition-altering power of psilocybin shows promise in soothing it. [12]
How to spot a Golden Cap magic mushroom in nature
Guess what else can be soothing? Scouring for shrooms in the wild!
Like so many of us, Golden Teachers prefer to bask in subtropical and tropical climates — such as the Southern US, Southeast Asia, and Central and South America. Cattle egrets track Golden Teacher spores all over the globe, though, so you could end up spotting some at any pasture.
In other words, where there's cow poo, cubensis could be too. This magic fungus thrives in soil enriched by manure, so study pictures, watch your step, and adhere to these practices as you scavenge for its signature cap:
Think You Scored? Check the Spores! – A Golden Teacher spore print is an absolute must, even if it fits the bill and bruises blue. Death Caps closely resemble Golden Teachers, and they're as toxic as their name suggests. Even the most seasoned hunters stamp for Golden Teacher mushroom spores before consuming a specimen.
Harvest For Healthy Mycelium – Mushrooms are the fruiting body of a much larger organism. To thank Mother Nature for her gift and stay on her good side, pull out a shroom without damaging its underground mycelium network. Pinch the base of its stem and twist and pull upwards to break its strands and not the whole clan.
Pace Yourself, Don't Brace Yourself – Golden Teacher potency varies greatly, so test out your foraged goodies nice and slow. You can always eat more if you're not feeling your desired psilocybe cubensis effects, ya know? Keep in mind that Golden Teacher dosage fresh is different from dried. Oh, and don't eat worms!
3 ways to munch on Golden Teacher mushroom
Why not tailor your shroom trip length and intensity to your target outcome? In my humble opinion, these options can hit the holy grail:
Microdose Capsules: For a sub-perceptual mood and creativity boost, micro-dosing is a shroomtacular way to go. Capsules like these Golden Teacher Rocket Launchers offer precise measuring so you can reap the benefits of psilocybin without tripping balls.
Shroom Edibles and Teas: For mushroom tincture magic in a tasty morsel, try psilocybin gummies or chocolates. To listen in on the cosmic tea while sipping on a warm beverage, pour a cup of magic shroom tea, get comfy on your back porch, and stare at the stars.
Good Ol' Mushrooms: If you're feeling old-fashioned, high-quality Golden Teacher dried and tried by many is a fine way to trip. If you're new to psychedelics, pop one or two. If you'd prefer to temporarily lose your ego, safely munch a mushroom hero dose.
Have you aligned your intentions with a shroom invention? Time to hone in on your dosage and prepare your mind to board the magic school bus!
Golden Teacher dosage and trip duration
If this will be your first trip to the fairy realm, you may want to know what to expect. If you're asking yourself, "What will I witness? What's all this talk about my body buzzing and the walls breathing?", you're going to have to wait and see . . . but there will probably be mind-blowing geometry.
If you're wondering, "How long does an 8th of shrooms last?", pull up a toadstool. A GT trip usually lasts anywhere from four to six hours with slight — often euphoric — lingering effects that can last up to a day. I would advise dipping your toes in slowly with a lower starting dose. To help out, I created this handy dandy 'Golden Teacher dosage dry' chart:
Microdose: 0.1 – 0.25 gram
Low dose: 0.25 – 1 gram
Medium dose: 1 – 2.5 gram
High dose: 2.5 – 5 gram
Heroic dose: 5+ gram
For a deeper dive into general psilocybin dosing, check out this page. It was written by a magic mushroom sage, so you won't be disappointed.
Dried Golden Teachers from 3 Amigos Dispensary
Speaking of sages . . . some find wisdom in the pages of books while others search for it in the wild. The latter is the story of Soul, the Professor, and the Dreamer — three lifelong amigos who spent their childhood getting lost on the coast of BC. They found their purpose within fungi that grew in its forests, and psilocybin taught them how to lead a more fulfilling life.
Did they discover the secrets of the universe? Not sure. But they must have gained access to the mushroom growing arcana, as they've since opened up an online mushroom dispensary to share their magic with us.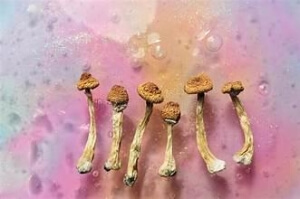 The Golden Teacher grow kit Canada needs
An authentic shroomsayer doesn't keep his secrets to himself. That's why this dispensary supplies the tools you need to produce your own GTs. If you don't know how to grow Golden Teacher, this Golden Teacher grow kit is a godsend. For amateur mycologists like this anonymous customer, there is a Golden Teacher substrate and Golden Teacher spores for sale.
"Packaged well in a bubble envelope. LC was nice and clear. There was an abundance of healthy mycelium, not the usual 3-4 clumps – the like barrel was full of it. Didn't feel the need to shake like crazy. I know better, but when I have to I feel like I'm hurting the specimen somehow.
Already have them on agar. Can't wait to see the rhizomorphic fanning. Also on slides. Lively specimen under the scope, quite beautiful actually.
Sorry geeked out. Thank you!"
Not as myco-minded as this guy? Shroomkuna Matata! Each kit comes with easy-to-follow instructions to ensure you maintain the ideal Golden Teacher growing temperature, humidity, lighting, FAE, and more. That way, you'll minimize Golden Teacher grow time and maximize potency.
Do your Gold Cap mushrooms measure up?
BobbieRae Skrypnychuk made a sizable claim after buying his "fav strain" — Gold Caps — from 3 Amigos, stating "these are massive mushrooms," and that he "was very pleased." Do your GTs measure up to that gold star?
The Cap: An iconic golden yellow adorns a "massive" conical cap.
The Gills: An abundance of gorgeous purple spores coats soft gills.
The Stem: Thick veiled stems bruise blue, signaling potent magic.
Cultivate the health benefits of Psilocybe cubensis
Can Golden Halos reveal the stairway to a heavenly existence? If you trip smart and heed the Golden Rule, they shouldn't lead you astray. Whether you're a grower or a shopper, quality TLC for your shrooms and yourself heralds that you're getting the most out of cubensis. A sterile container, cultivars with strong genetics, attention to detail, and adequate care will help both of you bloom. Cultivation is a two-way street that glitters gold.
These Canadians glow like Gold Caps mushrooms
Want to join a blooming shroom community? Cruise through a Golden Teacher mushrooms review or two from the 3 Amigos fungus fan club:
"Euphoric and relaxing"
— Anonymous, mushroom muncher
"My husband and I each experienced very different trips with this strain, but got exactly what we needed from it. This helped bring powerful insights and healing transformations in such unique and profound ways."
— Jordan, mushroom muncher
"I really like these bars. Great value for the strength. One square is good to stabilize moods and bring feelings of happiness. While ½  to full bar will give you an incredible mushroom experience especially out in nature."
— Tanya M., chocolate chomper
"Works great. Depression is gone, and energy is up. Fast service, good prices, and great product. Will be using them again in the future."
— Derrick, microdose pill popper
3 Amigos Golden Teachers: Hero's journey mushrooms?
And we've arrived at the summit. According to this anonymous review, Golden Halos from 3 Amigos can take you on a hero's journey at home:
"I touched the Universe and confirmed what I have known since childhood: that I am connected to the infinite '. . . the whole is contained within the smallest part in the making of the whole."
I don't know about you, but my inner child is begging for a mush-stash.
The shamanic Golden Teacher mushroom strain
We can only truly mature once we access a deeper part of our psyche and complete the lessons that have been presenting frustrating cycles in our lives. Some say Golden Teachers can light the way, guiding us toward a path that pushes our growth so we can finally get there. The state we've always wanted to attain. That place that's always seemed just out of grasp.
If the ancients had a secret shamanic sauce, it was surely Golden. As we reawaken to the power of psychedelics, we should taste and reflect on their recipes for wisdom before mixing them into modern rituals. Raw. Like the golden mushroom child that has grown wild around the globe.
When you're ready to acquire a Teacher, 3 Amigos' online doors are open.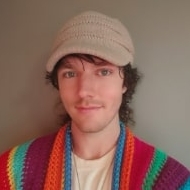 Thomas Wrona is a writer, designer, and wellness coach who believes that nature's wisdom provides an antidote to the stress of modern life. As a former pro athlete, he's all about staying in motion! When he's not writing you'll probably find Thomas outside.