Alberta Magic Mushrooms Online Trip Guide
If you're going to use magic mushrooms, it only makes sense to use them in a magical place. Welcome to our cute little Alberta magic mushrooms online trip guide, for those who like to trip, on a trip! Here's a quick preview:
Shroom quick trip tips
Things to do in Calgary

Walk the downtown area
Calgary Art Museum
Calgary Nude Beach
Prince's Island Park
Nosehill Park
Wonderland Sculpture

Things to do in Edmonton

Muttart Conservatory
Ice Castle
Bunchberry Meadows Conservation Area
William Hawrelak Park
Nude Beach

Exploring the Rockies
Quick Trip Tips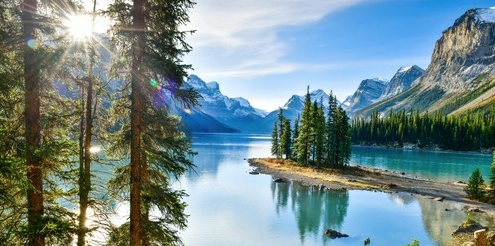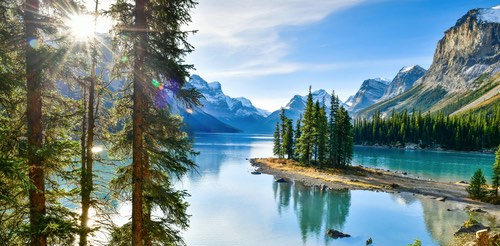 Before getting into things, there are a few points you should keep in mind before any shroom trip:
Spending time at home or at a local nature spot often makes for the best psychedelic experience.
Bring a friend or family member along with you anytime you plan to be under the influence of shrooms.
Don't drive anywhere for at least 6-8 hours post-trip. Better yet, only partake once you've reached your intended destination.
When in doubt, just play things safe and microdose.
For more helpful tips and tricks check out our Ultimate Guide to the perfect mushroom trip. These suggestions aside, let's take a look at what Alberta has to offer.
Things to do in Calgary
Calgary is the biggest city in Alberta. If you've got some free time in the area, here are some ideas on how to spend it.
Walk the downtown area
Calgary may be a big city, but it's easily accessible by foot or by bike. The sophisticated downtown area has been called a "hub of optimism, ideas, and energy."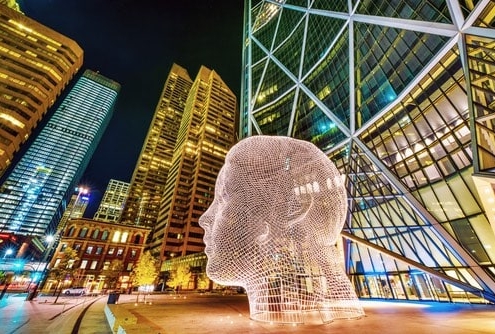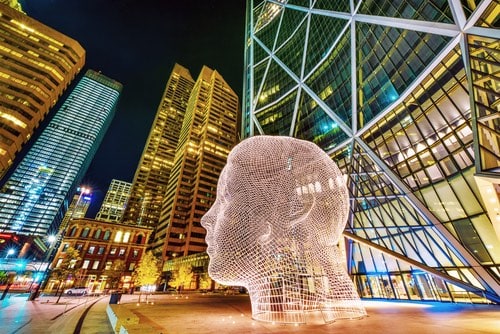 Art lovers are sure to like downtown Calgary, too. The yearly Calgary ArtWalk offers a delightful blend of local art and other creative vendors!
Calgary Art Museum
Calgary's biggest art museum, Glenbow, is also a great choice for art lovers. It features art from a variety of different eras and genres, including incredible First Peoples art from the Inuit and Metis peoples.
Calgary Nude Beach
Calgary's Weaselhead Flats beach has been used as a semi-discrete nude beach for over 2 decades. Hidden between Glenmore Reservoir and Tsuu T'ina Nation lands, Weaselhead Flats is just far enough off the beaten path. Nude beachgoers have to brave a 30-40 minute hike to access the beach — but it's well worth it. from the parking lot to the beach. Nudity becomes acceptable about halfway through the hike, just FYI!
Prince's Island Park
Prince's Island Park is downtown Calgary's most popular park. It holds several festivals during the summer season, including the Canada Day celebration and Calgary Folk Festival. The park also features: ⦁ Picnic spots ⦁ Playgrounds ⦁ Hiking trails ⦁ Botanical gardens ⦁ The Chevron Learning Pathway
Nosehill Park
Spanning more than 11 square kilometres, Nose Hill Park provides a welcome respite from the hustle and bustle of the city. Wander through the park's 60 kilometres of trails and pathways and you might just forget that you're in a metropolitan area! Nose Hill itself is also home to fescue grassland, a special variety of grass that once covered much of Canada's western plains but is now considered endangered. Be sure to enjoy the stuff, but only from a distance — don't walk or bike on it.
Wonderland Sculpture
Calgary is known for its outdoor artwork and sculptures. For an example of said artwork, look no further than downtown's Wonderland Sculpture. The sculpture is much easier to view than describe, but here goes: it's an enormous mesh sculpture of a little girl's head. Its semi-transparent structure makes it seem only partially there, and as you walk around its outside, it seems to change phase. You can walk through the sculpture's interior, too. Passerby describe the wonderland sculpture as a stunning, sensory experience.
Things to do in Edmonton
Edmonton is Alberta's capital city. Though smaller than Calgary, its population still reaches nearly a million!
Muttart Conservatory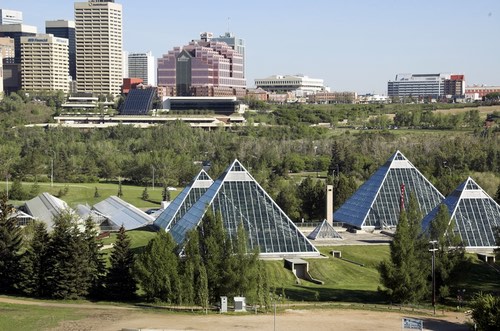 Everything about the Muttart Conservatory is unique — including first impressions. The conservatory features carefully sculpted botanical gardens interspersed with massive glass pyramids. If you like plants, architecture, and anything in-between, Muttart is definitely worth a tour.
Ice Castle
The Ice Castle is an awe-inspiring winter happening that you'll probably have to see to believe. The size of an actual castle, Edmonton's Ice Castle is composed of thousands of icicles and built entirely by hand. LED lighting brings the Castle alive each night. It's probably the closest you can get to inhabiting a real-world fairytale!
Bunchberry Meadows Conservation Area
Bunchberry Meadows Conservation Area is a 250 hectare forest located just 30 kilometres from downtown Edmonton. 'It features aspen parkland woods as well as pockets of white spruce, tamarack, jack pine and wetlands, giving way to diverse plant communities throughout the whole area," EALT's website says. "This natural area is an important refuge for wildlife and is home to many species including moose, deer, squirrels, owls, hawks, and songbirds." Bunchberry Meadows is expected to be open to the Albertan nature-lovers this fall.
William Hawrelak Park
This iconic Edmonton park wraps around a lake and features extensive hiking and cycling trails. William Hawrelak Park is a 68 hectare park graced with a 5 hectare lake and rolling meadows. The park really comes alive each summer, when it hosts all sorts of festivals and gatherings.
Nude Beach
Located in the nearby town of Devon, CottonTail Corner beach is Alberta's only family-friendly clothing-free naturist beach. Described as body positive and non-sexual, it's perfect for those who want to feel immersed in nature without sexual stigmas. It's also likely a great place to enjoy shrooms.
Exploring the Rockies
Last, but definitely not least: if you're in Alberta, you've got to get out and explore the Rockies. Here are two ways you can do that.
Ha Ling Peak
Located just outside the town of Canmore, Ha Ling Peak trail is a challenging-but-doable hike that's loved for its untamed essence and beautiful views. This hike can be done almost all year round, but be sure to wear spiked boosts if snow or ice is on the trail. In nice weather (think summertime) the trail is graced by hundreds of hikers each day. You'll probably love Ha Ling Peak's winding staircases and suspension bridges. And you'll definitely love the view from the top!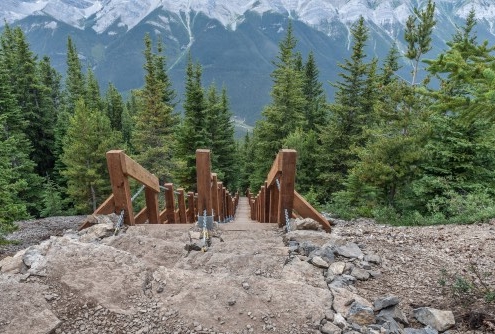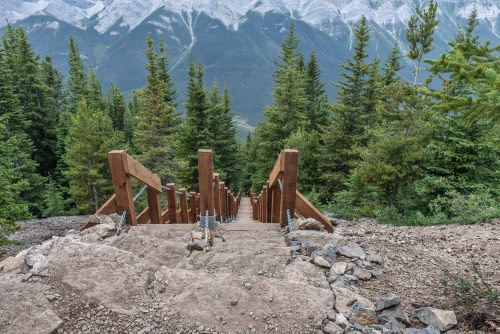 Note: the hike is somewhat challenging, so those new to hiking and/or shroomery should probably bring a friend along. Strong hikers can do the full hike in roughly 2-3 hours, while novices may take up to 5.
Badlands of Alberta
In the mood for a road trip? Then head east from Calgary and visit the Badlands of Alberta The landscape here is practically as old as time. Dinosaurs once roamed the badlands, and to this day the area gives off some seriously vintage wild-west vibes. If you have time check out the Atlas Coal Mine.
Alberta mushroom dispensaries
All in all, Alberta is home to dozens of great places for your next shroom trip. We couldn't be happier to be AB's premier online mushroom dispensary! Regardless of where you choose to go or what you choose to do, we think you'll enjoy experiencing everything Alberta has to offer. Why not make the experience even more enjoyable with some premium 'shrooms.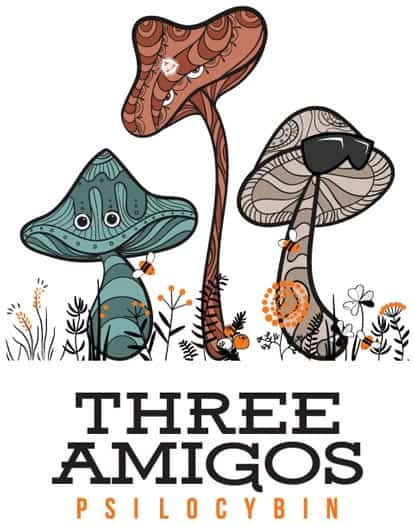 Our products are only for use where the sale and consumption of such products are legal.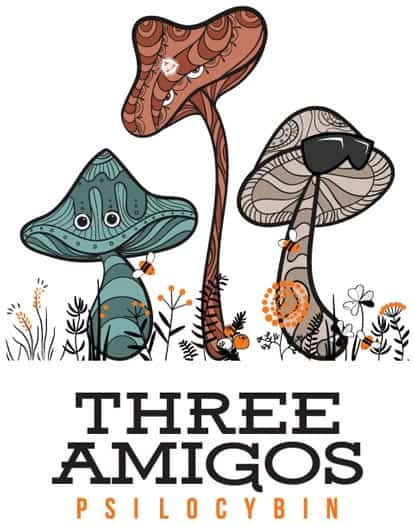 Age Verification
By clicking enter, I certify that I am over the age of 19 and will comply with the above statement.
Please enjoy in a safe environment.