Fantastic Fungi Film Review
Have you seen the film Fantastic Fungi yet?
If not, you might be missing out. Fantastic Fungi takes its viewers along on an expert-led tour of the power and potential of the mushroom kingdom.
Spoiler alert, this article is meant to complement the contents of Fantastic Fungi yet. If you haven't seen it yet, you might want to hold off on reading this for now!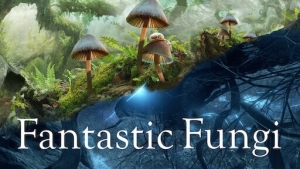 The Mission Behind Fantastic Fungi
Fantastic Fungi was released by filmmaker Louie Schwartzberg in 2019. As it turns out, the film was a long time coming. Louie may be best known for his pioneering work in time-lapse photography, but he'd been wanting to bring the benefits of shrooms to light for over a decade.
He's been especially inspired by the interconnectivity said shrooms represent. "Learning about nature's intelligence opens you up to the idea that everything is interconnected," he says in an interview with Bioneer. "The fact that it's all one and all connected is no longer a 'new age hippie' idea. In my movie, we talk about the science that proves it."
What science, you may ask? The science of mycelium. "[The] mycelium network under the ground is a shared economy that brings trees together into one real, giant, symbiotic, shared economy– one not based on greed, but based on the idea that when things are shared, everybody flourishes, and communities survive better than individuals."
Fantastic Fungi's website attests to the same nature-led mission. "We're on a mission to share the beauty and intelligence of nature — starting with the magic and mystery of mushrooms — to protect the planet and create a better future. […] We want to inspire you to bring the lessons of nature – our greatest teacher – into your everyday life. Let's change the world, together."
Fantastic Fungi: Key Takeaways
Without further ado, let's dive into the details of Fantastic Fungi. This is the section you'll really want to skip if you haven't yet watched the film!
Lesson #1: We can't outsmart nature.
"If we don't get our act together and come in commonality and understanding with the organisms that sustain us today, not only will we destroy those organisms, but we will destroy ourselves."
Those are the wise words of Paul Stamets, a mycology expert who plays a central role in Fantastic Fungi. Paul goes on to say that nature's intelligence shouldn't be stifled. The fact that we humans have lost our ability to communicate with Mother Nature, he says, "doesn't impugn the concept that nature's intelligent. It speaks to our [own] inadequacy for communication."
As it turns out, mushrooms of all shapes and sizes may be the key to reconnecting with nature, our fellow humans, and ourselves…
Lesson #2: Foraging for mushrooms can be tricky.

"Mushrooms are very clandestine and very much the trickster," Stamets explains near the start of the film. "So, they're hiding from you all the time."
Walking through an old-growth forest in the Pacific Northwest, Stamets proceeds to explain where to look for such things. "Fungi are the grand molecular decomposers of nature," he says. Now, what does that mean? Well, they break down wood."
Translation: rotting wood is a great place to find — or innoculate — fungus.
Lesson #3: Fungi often work covertly.
Most people don't realize just how much of a role fungi species play in their daily lives.
Without fungi, most plants wouldn't grow.
Without them, the soil couldn't hold onto enough carbon.
Without them, humans might not have evolved into, well, humans.
Without them, the planet would be filled with trash — things wouldn't be able to decompose.
Without them, trees couldn't communicate with eachother or work together to balance the atmosphere.
Need more tidbits? Fermentation makes preserved food safe to eat. Penicillin mold gives Gorgonzola and Roquefort cheese their characteristic colors and flavors. Fungi ferment corn into bourbon whiskey.
Lesson #4: Magic mushrooms can provide powerful internal therapy.
Paul Stamets recounts his first experience with psilocybin about midway through Fantastic Fungi.
"I had no recommendations for how much to consume," he says, "so I had a bag about this big [and] consumed the [10+ gram] bag."
Soon enough Stamets finds himself climbing an oak tree and admiring the view from the top. Until, that is, a storm rolls in just as the shrooms are beginning to work their magic…
"I am getting waves where the air becomes a liquid. Woosh, you have this distortion field go through the visual landscape. […] The lightning strikes would go and then all these geometrical fractals would emanate out of the lightning strikes."
As you might expect, Stamets was pretty dang scared. "I held on to the tree for dear life. And that tree was my pillar back into the core of the Earth. […] I was terrified that I wouldn't survive."
This external pressure forced Paul to look inward:
"I said [to myself], 'well, Stamets, you know, you're not stupid, but you stutter all the time.] And so I thought, I need to stop stuttering.' And so I said to myself,'"Stop stuttering. Stop stuttering now.' A little inner voice in my head, 'Can you hear me? Stop stuttering now.'
Eventually the trip ended, and Paul climbed down from the tree and hiked back home feeling a newfound love for nature and life.
He wasn't sure anything had changed until the next morning, when a romantic interest put his psyche to the test:
"The next morning I woke up and there was a really attractive lady that I liked a lot, but I could never stare at her in the eyes because I was afraid to stutter and embarrass myself. […] She was walking past me and she looked at me and she said, 'good morning, Paul.' And for the first time, I looked her straight in the eye and I said, 'good morning, how are you?' And I stopped stuttering in one session."
Paul isn't the only person who claims that a single psilocybin session can outperform years of 'regular' therapy and inner work, either. Terrence McKenna and other psychonautical icons claim the very same thing. Modern science is finally beginning to validate psilocybin's anti-depressant effects.
Where to Find Psychedelic Shrooms
"Nature provides — I don't."
–  Paul Stamets
Psilocybin shrooms might be awesome, but for most of the last couple decades they've been hard to actually get your hands on. Until now. At Three Amigos we're all about making premium psilocybin accessible to as many Canadians as possible. We've compiled an online directory of Canada's best psychedelic therapy centres where you can get find the type of inner work you're after.
We've also started an online shop where you can buy premium shrooms and get them shipped directly to you. Between the microdosing capsules, dried shrooms, mushroom teas, and infused chocolate bars, there's something for everybody!
"We are not an individual.
We are a vast network of molecules, energies, and wavelengths. The interconnectedness of being is who we are.
This world of ours is always changing, not for the better, or for the worse, but for life. If the storms come and the water rises, if fire scorches the land or darkness descends.
We will be here, working. As we always have. Extending the network, building community, restoring balance. One connection at a time.
It may take a million years, or a hundred million. But we will still be here."
– Fantastic Fungi, final narration