Makilla Mushrooms: What They Mean to this Mushroom Dispensary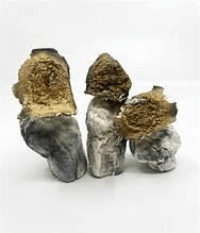 Just when you think you'd seen it all, a new psilocybin shroom hits the scene.
This time around, the shroom in question is called Makilla Gorilla — and it's more potent, more powerful, and more magical than almost anything that's come before it. Keep reading to learn more.
Makilla Mushrooms 101
Find Magic Mushrooms in Nature
Is It Legal to Buy Psilocybin Shrooms
How to Determine if Your Makilla Mushrooms Are High-Quality
Where Can I Find Makilla Mushrooms?
3 Ways to Enjoy Makilla
Makilla Mushrooms: What to Expect!
Makilla Mushrooms: Dailing In Your Dose
Why Buy Makilla from Our Mushroom Dispensary?
Dispensary Customers Say About Makilla
: Your New Favourite Shroom?
Makilla Mushrooms 101
With the full name of Makilla Gorilla magic mushrooms, Makilla is a newer cross of Melmac Penis Envy and Albino Penis Envy. Its unique lineage provides ultra-high potency and uniquely uplifting visuals.
New psychedelic users beware: Makilla Gorilla is powerful! It's known for open-eye visions and trances, replete with kaleidoscopic fractal patterns and a heavy, spiritual vibe.
Even the appearance of this Penis Envy cross is unique. It features long, colourless stems and golden brown caps. Unlike most other Penis Envy varieties, Makilla Gorilla has flared-out circular caps with wide circumferences.
The History of Makilla Mushrooms
Makilla Gorilla shrooms belong to a new archetype of magic mushrooms. In other words . . . they're unlike anything you've probably ever tried.
Makilla is the lovechild of two already-iconic strains: DC Melmak and Albino Penis Envy. It's not clear exactly who thought of crossing these strains, or what their intentions were, although several people have taken credit for creating Makilla over the years. Nor is it clear exactly when this strain was created.
Makilla's origin story dates back to the 70s when the classic Penis Envy (PE) strain hit the scene. By the 80s several top mutations had emerged — foremost among them something called the Melmac strain. A psilocybin breeder named DC took things from there, creating his own extra large, extra powerful version of the strain: DC Melmak. At some point DC Melmak was crossed with another Penis Envy variety, Albino Penis Envy.
The rest is history! Makilla Gorilla is the first strain with 100% Penis Envy ancestry. Regardless of exactly how this iconic strain got here, it packs a serious punch for anyone who tries it today.
Find Magic Mushrooms in Nature
Did you know that magic mushrooms are a natural product?
Perhaps that's obvious, but the old stigmas and legal issues surrounding psilocybin can make it easy to forget that it's just one of the many different types of mushrooms lovingly provided by nature.
If you want to find some natural-growing magic mushrooms yourself, there are a few things you should look for.
Quality #1: Location, location, location
Location doesn't just matter for real estate; it's also a crucial thing to keep in mind when on the hunt for magic mushrooms. Many species, like the popular Psilocybe Semilanceata or "liberty cap," thrive in wood chips and can be found throughout the Pacific Northwest region of the US and Canada. Liberty caps can also be found throughout Europe; they were actually the first European species to test positive for psilocybin. This variety tends to grow in grasslands near ponds.
Another thing to look for? Cow and sheep pastures. Many mushrooms, especially Psilocybe Cubensis, the golden teacher, grow naturally from the manure of these animals. A smaller, stronger 'shroom called Panaeolus Cyanescens also grows out of cow dung.
Quality #2: A bluing stem
Magic mushrooms often have slightly blue-tinged stems. Bluing is actually a bruising reaction that indicates the degradation of psilocybin to psilocin, a serotonin agonist. Bluing can also be seen on dried mushrooms, where it's often mistaken for mold.
Quality #3: A slender, flexible stem
Many magic mushrooms also have long, slender, easily bendable stems. When freshly picked, expect these stems to 'jiggle' a little bit.
Quality #4: Spore color
Analyzing a mushroom's stem and spore colors can tell you a lot, especially if you're a trained mycologist. Purple brown spore color + bluish stem color = Psilocybe Azurescens mushroom, for example.
Quality #5: A circular cap
Most magic mushrooms have very circular caps. Liberty cap mushrooms have a translucent circular top that you can see its gills through. True to its name, the golden teacher variety of psilocybin has a round cap that's golden-hued. Most varieties also have a separate gelatinous pellicle — a thin film — under their cap.
* Disclaimer: if you're going to forage for wild mushrooms, be careful. Some mushrooms that look similar to psilocybin can be very poisonous! Consider recruiting the help of an expert mycologist if your goal is to find wild-growing mushrooms. If you want to be extra careful, you can also take a spore print of any mushrooms you're suspicious about. 
In an interesting example of symbiosis, eating the magic mushrooms you grow may inspire you to get out in nature more often . . . where you can proceed to do none other than grow more magic mushrooms. No, seriously — a 2018 study connected "increased nature-relatedness" and decreased interest in "authoritarian political views" with psilocybin use. [1]
We'll be honest: it's unlikely that you'll find Makilla Gorilla mushrooms growing out in the wild. The strain is simply too novel and too new. You may find other psilocybin varieties, including classic Penis Envy shrooms, though!
Is It Legal to Buy Psilocybin Shrooms?
Growing magic mushrooms is fun and all, but let's say it's just not your thing. Maybe you're looking for a quicker fix and don't want to wait two weeks before you partake.
No problem. Psilocybin can be ordered online and legally delivered to every province and territory in Canada. Canadian courts have ruled again and again that the "life, liberty, and security of [a] person" includes their ability to access medicinal substances, most recently in a 2016 medical marijuana case. Similar cases involving psilocybin may be seen in the future. [2]
Thanks to this legal progress, ordering psilocybin mushrooms online is safer and more streamlined than ever before.
How to Determine if Your Makilla Mushrooms Are High-Quality
They say beauty is in the eye of the beholder.
And it's equally true that the quality of magic mushrooms is in the quality of the trip. The best mushrooms out there produce the best experience. After all, one's experience with mushrooms is a direct result of their chemical makeup, which in turn is a direct result of their growing conditions.
Happy mushrooms — grown with care — create lasting happiness in people. Regardless of whether you harvest something wild-grown, grow your own, or buy from a trusted source, it really is that simple.
Where Can I Find Makilla Mushrooms?
So . . . where can you find Makilla mushrooms? Right here at our very own mushroom dispensary!
Our Makilla Gorilla strain is among the industry's highest-quality. We source them from Canada's best growers and put them through intensive quality checks before selling. More details below.
3 Ways to Enjoy Makilla
It's time to stop tolerating low-quality shrooms. Why settle for substandard when you can enjoy the very best? If you're ready to try Makilla's for yourself, here are three ideas.
Taking Makilla Gorilla for fun
Let's face it: Makilla Gorilla mushrooms are fun! Taking a pleasantly high dose of Makilla is a sure ticket to new realms of perception, vision, realization . . . and enjoyment. Get ready to be blown away! Dial in your set and setting for best results — and maximum enjoyment.
Taking Makilla Gorilla for spiritual quests
Makilla mushrooms are powerful enough to activate your spiritual senses and bring your imagination to life. Our ancient ancestors used similarly powerful shrooms to reconnect with their loved ones and become one with divine love.
You can experience this very same type of consciousness expansion today in 2023. Feel free to take a moderate-high Makilla dose if spiritual peaks are what you're after.
Makilla microdosing
Not interested in tripping your brain out or communing with God? Not a problem. Milder dosing methods are also available.
Foremost among these 'milder' methods is something called microdosing. Microdosing entails taking smaller-than-normal doses more often than normal. Microdosing won't get you super high, but it may very well help you rewire your brain and renew your thought patterns.
Learn more about microdosing and other dosing techniques here.
Makilla Mushrooms: What to Expect!
Makilla is a new enough strain that dialing in its effects isn't always easy.
To give you a better idea of what it might be like for you, let's take a look at what customers are experiencing from APE. In theory Makilla Gorilla would provide the best combined effects of APE and DC Melmak.
Matthias says Albino Penis Envy presented the best of both worlds:
"Very powerful and the smoothest come-up I've ever had."
Michael says they're great for microdosing:
"Tried a small sample. Great stuff! Can't wait to take a stronger dose and really trip :D Delivery fast as always!"
Meanwhile, Daniel broke through the standard-grammar matrix to discover something entirely new:
"Great trip, amazing visual and feeling .this is now m'y go to ,try this and you will free your soul ;) anyway..amazing product"
We scoured Reddit for other reviews, too. Here are the highlights:
"Man we took them yesterday and damn they were nuts dude — crazy trip with all my good friends. Thanks for all the information you provided man — For me the visuals were crazy man. [Thank you so much]!"
One reviewer says Makilla mushrooms are powerful enough to warrant more conservative dosing:
"I'd say I'm pretty experienced with shrooms. Last night I took a microdose that I eyed up. A dollar-sized cap and a little piece of a stem. It was much less than a half gram. Last night's experience was absolutely mind-bending and humbling. I was not ready for [it]. I was very much in control and clear-minded but these visuals are intense, sharp, and very powerful. A heroic dose would be 1-1.5g. 2-3 grams if you wanna get religious."
In other good news, Makilla Gorilla may also:
Heighten the enjoyment of nature, music, and more
Instill a profound sense of relaxation
Help you engage the spiritual realm
Relax both body and mind
Enhance physical senses
Check out our Ultimate Guide to The Perfect Mushroom Trip to ensure your next Makilla Gorilla
Makilla Mushrooms: Dailing In Your Dose
As we've explained earlier, Makilla mushrooms are potent. Start off on the lower end of the dosage spectrum to ensure that your first experience with these shrooms is a good one!
Makilla Gorilla Micro Experience (0.1g-0.4g)
A microdose involves taking a subperceptual — or nearly subperceptual — dose of shrooms. Though microdosing doesn't afford you trippy visuals or crazy colours, it can enhance life in other ways:
Enhanced focus
Expanded creativity
Greater sense of wellbeing
Reduced stress and anxiety
Improved coordination
Higher work capacity
Increased motivation
Makilla Gorilla Micro Experience (0.1g-0.4g)
Expect a gentle high akin to what you'd experience from your favourite cannabis strain. All of your senses become heightened, and everyday experiences become more enjoyable. Music sounds better . . . social settings seem friendlier . . . the mind releases control and yields to the spirit. Depending on your sensitivity, the upper end of this dosage range may feature mild visual effects.
Makilla Gorilla Mild Dose (1g-2g)
Want to experience a truly psychedelic experience? Then consider taking between one and two grams of Mikalla Gorilla mushrooms.
For most people, taking two grams tops won't be too crazy — but it sure will be interesting. Visuals become vivider, surfaces become shinier, depth perception and time become distorted. An hour might drag on for eternity, giving you plenty of time to ponder the hidden meanings of life!
Makilla Gorilla High dose (3g+)
Expect powerful hallucinations and real-time reality bending if you take more than 3 grams of Makilla Gorilla. You'll probably find yourself able to peer into new worlds, beholding unusual shapes and colours that flood your consciousness with liquid light. Reality will take on a more malleable form. Are you controlling it . . . or is it controlling you? You be the judge of that one.
Note: doses of 3+ grams are not recommended unless you're a seasoned psychonaut!
Makilla Gorilla Mega dose (4g+)
User beware: don't take this much Makilla unless you have lots of experience with psychedelics. And even then you may want to start off with a lower dose until you get a feel for the shroom!
Doses of 4+ grams can and probably will lead to:
Disconnection from physical reality
Intensive, immersive hallucinations
Complete dissociation from space and time
Ego death — the loss of your old identity and the surrender of old habits
Lasting impressions that assist you throughout the coming days, weeks, and months
Consume with caution . . . and a deep sense of gratitude.
Why Buy Makilla from Our Mushroom Dispensary?
Three Amigos is an online mushroom dispensary forged by three friends who believe that it's time to reconnect with plant medicine for the benefit of humanity.
Hailing from the West Coast of BC, We are Soul, The Professor & The Dreamer. All three of us grew up foraging for psilocybin mushrooms in the forests. These little mushrooms helped us realise who we were and what we stand for.
Our mushroom dispensary's commitment to excellence reflects this awakening. When used wisely psilocybin mushrooms have the power to heal us, inspire us, and maybe even save us. Why not go for the very best?
At Three Amigos we make every effort to bring you Canada's best, brightest, and highest quality shrooms. In addition to Makilla Gorilla, we offer nearly two dozen other premium psilocybin varieties.
You should never purchase shrooms from an unreliable supplier that offers no quality assurance for the shrooms they sell. Buy from a trusted magic mushroom dispensary instead. We think you'll find that vital trust — and much, much more — shopping with us.
Makilla: Your New Favourite Shroom?
There you have it! Makilla Gorilla could become your new favourite strain. It's powerful . . . it's potent . . . it's unpredictable.
If you do decide to try it, start off conservatively — and buckle up for a wild ride! You might just glean the type of self-awareness that makes life itself a little more magical.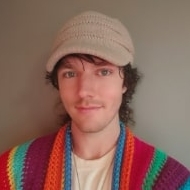 Thomas Wrona is a writer, designer, and wellness coach who believes that nature's wisdom provides an antidote to the stress of modern life. As a former pro athlete, he's all about staying in motion! When he's not writing you'll probably find Thomas outside.