How to Find the Best Magic Mushroom Strain for You
Hey, so you know trying different things makes life more interesting? Well, that goes for mushrooms too! They say variety is the spice of life, and this adage also applies to magic mushroom strains. Yet variety isn't all that helpful if you don't know how to find a magic mushroom strain that works for you. It's important to know which mushroom strain is best for you. This guide will help you figure it out without getting overwhelmed.
This guide will help you avoid decision fatigue and find a strain (or several strains!) that fits your life. Here's a TL:DR in case you just want the essentials up front:
For Artists:
African Transkei can give you amazing visual experiences and inspiration. It's great for artists.
For Musicians:
A unique mushroom, Penis Envy, might help you "see" sounds and "hear" colors – a bit like a super cool music vibe. Some musicians believe it boosts their creativity.
For Entrepreneurs:
Golden Teacher is a beginner-friendly mushroom that can help you think outside the box. It's perfect for entrepreneurs because it can help you be creative and come up with new ideas.
For Athletes:
Different athletes like different mushrooms, but Super Thai and Mazatapec are popular choices because they might give you a boost of energy and help you perform better.
The Best Magic Mushroom Strain for Artists: African Transkei
African Transkeis are one of the most popular varieties of psilocybin out there.
Transkseis are a potent strain, providing epic visuals and rich sensory experiences. While small in size, Transkei's are big in effect. The body high these mushrooms induce is perfect for getting out in nature, getting inspired, and coming back inside to draw or paint. During a trip, you might see colours more clearly — or even begin to see fractalized patterns behind everything. If that's not geared toward art-making, we don't know what is!
High-dose Transkei usage can get pretty intense, so stay away from strong doses unless you're an artist who also happens to be a seasoned psychonaut. But the visuals from a trip on a moderate dose of Transkeis will still be an excellent source of artistic inspiration!
The Best Magic Mushroom Strain for Musicians: Penis Envy
Penis Envy is a polarizing, powerful, and punchy psilocybin strain. Love it or hate it, but either way, you can't deny that Penis Envy has changed the shroom world. According to legend, Terence McKenna developed the strain himself in the 1970s  — and it's been a favourite ever since.
Get your Penis Envy dosage high enough, and you may begin to experience synesthesia. Synesthesia is the crossing of senses — for example, 'seeing' sounds or 'hearing' colours — and a surprising number of iconic musicians experience it.
Classical pianists like Messiaen and modern hip hop artists like MF Doom has credited synesthesia with some of their success. If you're an aspiring musician, consider using Penis Envy shrooms to tap into this exciting state yourself!
The Best Magic Mushroom Strain for Entrepreneurs: Golden Teachers
Golden Teachers are one of the most beloved shroom strains out there. Maybe it's the gentle, welcoming high, the delightful visual states, or the insights and revelations that are so common with this strain. Or perhaps it's a combination of all three qualities!
Regardless, Golden Teachers is a great mushroom strain for almost anyone. And they might be especially excellent for entrepreneurs. Why?
If you think about it, entrepreneurship requires a lot of creativity. Entrepreneurs work to stay ahead of the curve — and are often penalized for being slow to see unmet customer needs.
The best entrepreneurs are flexible, forward-thinking. And Psilocybe Cubensis (Golden Teachers) could help with that.
In other good news, Golden Teachers are also great for those new to psychedelics. They feel much gentler and 'safer' than some of the more potent psilocybin strains. Golden Teachers also possess powerful spiritual properties because of the visuals they can produce and their introspective qualities. 
The Best Magic Mushroom Strain For Athletes
This one is a little less quantifiable than our other categories. Different types of athletes tend to like different kinds of strains. Favourite strains differ based on any given athlete's personality, too.
For these reasons, we'll mention two of the most popular strains for athletes: Super Thai and Mazatapec. The use of Mazatapec mushrooms among athletes is exciting.
For those unfamiliar, Mexico's Mazatec people, a mountain-dwelling tribe from the state of Oaxaca, first introduced Mazatapecs. These delightful shrooms are known for their holistic view of health; they're highly spiritual and athletic. Today's athletes might be able to tap into similarly holistic fitness levels by consuming this tribe's namesake strain! Check out this short YT vid of Mazatapecs growing in time lapse!
Super Thai 'shrooms are known for their potency and 'pure' feel. Beginners should stay moderate with this mushroom. Super Thais are known and loved for their uplifting energy. They're also known for being strong, so proceed with caution. Super Thais are uniquely well-suited to microdosing and low dosing.
Despite what you might think, athletes often do best taking a moderate dose of their favourite shroom variety, not a microdose. But more on dosing next.
The right shroom dosage for you
Let's say you've found the right shroom strain for you. Great! Next, you'll want to find the right dosage.
You can check out this dedicated guide for more info on that, or you can just start off slowly via a technique called microdosing.
Microdose: 0 – 0.25 grams
Low: 0.25 – 1 gram
Medium: 1 – 2 grams
Strong: 2.5 – 5 grams (for experienced users only)
Heavy/Heroic: 5 grams and upwards (for experienced users only)
"While full-dose therapies include perception-distorting properties," one study's authors noted, "microdosing may provide complementary clinical benefits using lower-risk, non-hallucinogenic doses." Microdosing is sorta like having your cake and eating it too —  only far more holistic.
How does microdosing work? Good question. Some studies show that it may boost your brain's levels of BDNF, a specialized protein that enables new neurological connections. With these connections come all sorts of benefits:
Reduced stress
Enhanced mood
Emotional stability
Mindfulness and presence
Openness and self-forgiveness
Increased empathy and sociability
Increased sense of connection to others
Relief from depression, anxiety, ADD/ADHD, PTSD
Reduced learn helplessness, increased ability to change
Increased enjoyment of physical activity and everyday tasks
Enhanced athletic endurance, reflex time, and proprioception
Increased energy levels (without anxiety or subsequent energy crash)
Finding the Right Magic Mushroom Strain for You: summing things up
We hope you found this guide helpful. If you fall into any of the above categories, feel free to try the shroom strains they call for! We have a feeling said strains will be spot-on. Check out all our dried magic mushrooms here. 
Everyone's physiology and metabolism is different, and individual brain chemistry and body size play a significant role in how each individual might respond to psilocybin, as will your surroundings and emotional state. If it is your first time or you are significantly upping your dosage, select a safe, comfortable, and if possible, familiar place, and consider asking a sober trip sitter to be your companion for the coming ride.
IMPORTANT: Do not use if pregnant and do not mix with other drugs, especially alcohol. Strong doses are not recommended if the following challenges are in play. Microdosing is better suited to these situations:
People looking for a 'quick fix'
Desperation or last resort
Psychosis, Bipolar I or II or Cluster B diagnoses
A very cute YT vid of a dude talking about his trip on Penis Envy shrooms at some spa. Super funny:
How to Consume Magic Mushrooms
Magic Mushroom tea
A popular way to consume shrooms. Steep dried shrooms in hot water for about 20 minutes, then strain and drink. Mix in some honey and ginger for a nicer flavour. The ginger also helps tone down nausea. Sip slowly for less intense effects, or drink more quickly for a faster-acting, more sustained effect.
Capsules
Dried, ground magic mushrooms are available in the form of capsules. They offer the benefit of not having to taste the shrooms, which definitely have their own flavour! Capsules are the preferred method for micro dosing, but they can be consumed in greater quantities for more intense effects. Capsules are great for ensuring consistent quantities.
Powder
Magic mushroom powder (from capsules) can be added to smoothies, juices, or other drinks.
Chewing/eating dried mushrooms
You can eat magic mushrooms, and this is the most common way to ingest shrooms. But the taste might be a little off-putting for some. Be sure to have something to drink nearby to wash down any shrooms or to clear the taste on your palate.
Lemon tek
Soak your magic mushrooms in a glass of fresh lemon juice for about 10 minutes, and then eat the wet shrooms. The acidity of the lemon juice starts to break the shrooms down, thus preparing the shrooms for digestion. That way, they digest more quickly and the active ingredients in the shrooms become available sooner. Lemon tek will bring on your trip on more quickly, but it won't last quite as long.
How To Use Shrooms Safely!
Here are some steps that will make your magic mushroom trip safer and more fun!
Start with a low dose: Start with a low dose and increase gradually as desired. This allows time to gauge tolerance level, reducing the risk of negative experiences. START LOW, GO SLOW as they say!
Be in a safe environment: Because magic mushrooms can cause changes in perception, it is important to be in a safe and comfortable environment.
Don't mix with other substances: Mixing magic mushrooms with other drugs, alcohol, or medications is a bad idea. Psilocybin can interact with other substances in unpredictable ways and magnify their effects.
Know your source: When buying magic mushrooms, source them from a reliable supplier. Remember you're eating shrooms, so you want to be sure they were cultivated in a clean environment.
Have a positive mindset: Magic mushrooms can amplify emotions. Therefore, if someone is feeling anxious or depressed, it could trigger a bad trip.
Have a "trip sitter": This person remains sober and can provide calm and reassuring support if someone needs help.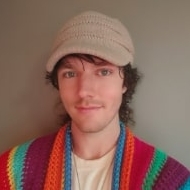 Thomas Wrona is a writer, designer, and wellness coach who believes that nature's wisdom provides an antidote to the stress of modern life. As a former pro athlete, he's all about staying in motion! When he's not writing you'll probably find Thomas outside.