All About One of the Most Mysterious 'Shrooms of All: Penis Envy Magic Mushrooms!
Psychedelics have fascinated people since we first discovered them. As physical substances with spiritual power, psychedelic mushrooms can unlock our minds and help us forge a brighter future.
And one of the most fascinating psychedelic mushrooms of all is Penis Envy. Known for their intense potency — and striking visual appearance — Penis Envy mushrooms more than deserve the attention this article gives them. Here's an outline of what you can expect to read.
What Are Penis Envy Mushrooms?
The Mysterious History of Penis Envy [Revised Version]
Penis Envy Goes Modern
Penis Envy: One Shroom, Many Varieties
Is Penis Envy Medicinal?
Penis Envy: Dialing In Your Perfect Dose
Does Penis Envy Have Side Effects?
Penis Envy vs. Golden Teacher and Other Strains
Are Penis Envy Mushrooms Even Legal?
What Are Penis Envy Mushrooms?
Penis Envy mushrooms are a variety of psilocybe cubensis known for their phallic shape. With thick stems and bulbous caps, these shrooms really do look like their namesake sexual organs!
Penis Envy mushrooms stand out for their effects, too. They're far more potent than most psilocybin strains, providing a cleansing, purging trip that's intense enough to challenge even the most seasoned psychonaut. (Feel free to learn more about these other strains on our blog.) Here's a quick vid by DoubleBlind Mag on these glorious shrooms:
https://youtube.com/watch?v=-zLArfXnJGQ
The Mysterious History of Penis Envy Magic Mushrooms
The exact origin of Penis Envy magic mushrooms is up for debate — to put it mildly.
A 2009 Vice Magazine article pinpoints Terence McKenna's Amazonian explorations as the start of the saga; in 1971, he headed into the jungle to study psychedelic use among native shamans. While there, he just so happened to discover a unique psilocybe cubensis variety growing from the manure of local cattle. Terence collected some spores and brought them back to the United States.
Once back, he sent some spores to fellow mycologist Steven Pollock in a bag marked 'Amazonian.' Pollock inoculated them and realized he was working with bigger mushrooms than before. Years of selective breeding later, he'd created a thick, tall, penis-like mushroom. Pollock's story ends sadly. Later murdered under suspicious circumstances, zealous law enforcement agents destroyed Pollock's life work.
The same week of Pollock's death, fellow mycologist Rich Gee received a spore print labelled 'Penis' in the mail. Gee would go on to inoculate and experiment with these spores in the same way Pollock had, eventually perfecting the Penis Envy phenotype. Or so we thought, anyways. Over ten years after crafting the Vice article we linked earlier, writer Hamilton Morris finally managed to track down the mysterious Rich Gee and have him featured on his podcast.
It turns out Penis Envy's widely-accepted origin story was mostly accurate. While it's true that Terence McKenna was the one who discovered the spores, and while it's true that Gee later received stabilized spores in the mail, Gee didn't get his spores from the late Steven Pollock. He actually got them from a friend names Jules Stevens. It turns out Gee's work happened independently of Pollock's, though both got their start thanks to Terence!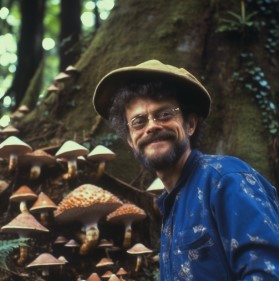 Gee also took the opportunity to describe the way he developed and perfected what would soon become the Penis Envy strain. Cloning the larger shrooms within an aquarium-type environment, Gee was able to drive the strain's genetic expression towards increasingly larger, potent mushrooms. According to him the final shape of Penis Envy was merely a byproduct of selecting for potency:
Hamilton Morris: "Was the penis shape purely accidental? Was that something you ever thinking [of]?
Rich Gee: "No, it wasn't about the penis at all."
The idea that Penis Envy's development into its namesake organ was accidental might sound surprising. Still, other elements of Gee's story attest to it. When Gee was working with the mushroom, it actually went by the name "Amazons."
It wasn't until 1977 that things changed. That's when Gee happened to show his labour of love to some stripper friends, who proclaimed that the mushrooms looked like 'donkey dongs.' "Do you have Penis Envy?" he replied, and from there, Penis Envy's identity rose up.
Penis Envy Goes Modern
The shroom's popularity spread pretty fast from there. Between its intense appearance and even more intense effects, Penis Envy generated plenty of talk among the day's psychedelic enthusiasts.
Fast forward to 2023, and Penis Envy remains one of the most popular magic mushroom strains. At last year's Psilocybin Cup, a version of the strain called Shiva lingams won first place in the spiritual category. Analysis revealed that this strain's psilocybin content was 22mg/g. That's 2-4 times more potent than most psilocybin strains!
Penis Envy's ultra-high psilocybin content fuels its intensive, potent trips. Many people find the strain spiritual — cleansing, purging, and forceful, but surely spiritual.
Penis Envy: One Shroom, Many Varieties
The classic Penis Envy strain will always have a special place in our hearts. But several exciting new PE variants have debuted over the last few years. These new variants take the already-amazing effects of Penis Envy and throw in a few twists. Two of our favourite varieties are Albino Penis Envy and Texas Penis Envy.
Albino Penis Envy
Albino Penis Envy, or APE, is a genuinely legendary strain. A hybrid of classic Penis Envy and PF Albino — star strains in their own right — Albino Penis Envy is extremely potent – experienced psilocybin enthusiasts love this strain for a reason. The joint efforts of Terence McKenna and Steven Pollock reportedly gave birth to this exceptional strain. However, the exact creation story is more than a little hazy.
APE's optics are pretty special, too. With short, thick stems and small blue-coloured caps, Albino Penis Envy's appearance is striking.
APE is notoriously slow-growing (and just difficult to grow in general). Still, our cultivation team at Three Amigos has done their very best to bring you this special shroom!
Texas Penis Envy
Texas Penis Envy, also known as TPE6, is the lovechild of classic Penis Envy with Texas Cubensis. This particular variety of Penis Envy has a thick shaft and bulbous cap and is typically dark brown in colour.
Though most people don't find Texas Penis Envy quite as potent as traditional Penis Envy, we still don't recommend it for beginners! Fractal surfing and other reality-bending effects are common. We recommend starting off with a lower dose regardless of your experience level. Please consider following these guidelines:
Microdose:               0.25 gram
Low dose:                 0.35-0.75 gram
Medium dose:         1-1.5 grams
Strong dose:            1.75-3 grams
Heavy dose:             3.25-5 grams
Are Penis Envy Mushrooms Medicinal?
Psychedelics aren't just for fun — they can also be powerful healing medicinal substances.
A growing body of research shows that psychedelics may provide lasting spiritual, mental, and physical benefits. A single psychedelic trip may be enough to break down and rebuild your neural foundation. This rebuilding process makes psychedelics incredibly useful for resolving mental health challenges like depression, anxiety, and post-traumatic stress.
From a more esoteric perspective, psychedelics can help bring out your own 'inner therapist,' thereby unlocking critical insights that the stress and strife of life made you forget you already knew. Many people experience a significant rebound effect in the days and weeks after taking Penis Envy. During this period, they benefit from an uptick in creativity and a newfound passion for life. You might notice that your energy levels are higher than usual, or your skin is glowing!
As of 2023, Penis Envy mushrooms aren't yet in vogue as a mainstream medicinal psychedelic. While they can be super therapeutic, they're just too strong for most people. In theory, this shroom could be highly therapeutic for people who need serious neural rewiring and already have at least some experience with other psychedelics.
Penis Envy: Dialing In Your Perfect Dose
While Penis Envy can have tremendous therapeutic power, treating them with a healthy dose of respect is still important. These shrooms can be intense, unpredictable, and even downright overwhelming. Individuals who are new to psychedelics should stay far away! (Strains like Golden Teachers may be a better choice if you are a newcomer to the world of shrooms — more on that strain coming up next.)
Also, be sure to optimize your set and setting before you enjoy Penis Envy. If you plan to trip with others, make sure they're close friends. Many people find that access to a peaceful nature spot also ensures a good trip. Learn more about how to set yourself up for enjoyment and success in our Ultimate Guide to The Perfect Mushroom Trip.
All these helpful pointers aside, let's get to the topic of dosing. Penis Envy shrooms are at least twice as potent as most strains you may have tried in the past, meaning you'll want to halve your typical dose. We recommend taking no more than one gram of Penis Envy magic mushrooms your first time — even if you have years of experience dealing with other psilocybin strains. It won't take much for you to have an incredible trip.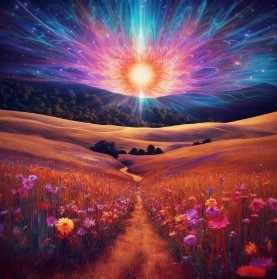 Here are our full dosing recommendations:
Microdose:               0.25 gram
Low dose:                 0.35-0.75 gram
Medium dose:         1-1.5 grams
Strong dose:            1.75-3 grams
Heavy dose:             3.25-5 grams
Does Penis Envy Magic Mushrooms Have Side Effects?
Short answer? Yes, Penis Envy can — and often does — have side effects. The strain is that strong.
Below are some of Penis Envy's most common side effects. The list may seem daunting at first. Please remember that appropriate dosages for your experience level will avoid these effects.
Altered consciousness
Penis Envy mushrooms can alter your consciousness, very, very easily. They can fuel:
Fractal effects
Perceptual distortions
Intense visual and auditory hallucinations
Interactions with alien, angelic, or supernatural beings
It is of utmost importance that you mentally prepare yourself for these possibilities before your trip begins. If you're feeling stressed or overly anxious, you may want to save Penis Envy for another day.
Anxiety and paranoia
Higher doses of Penis Envy can cause fear-based emotions to rise. Refer to the dosage guidelines above. Don't forget that lower doses are the best way to start if you are not hyper-experienced with psychedelics!
The possibilities here include:
Fear
Anxiety
Paranoia
Panic attacks
Deep-seated dread
If you experience any of the above sensations, don't panic. Just ride the wave and be open with your trip sitter (if you have one) about how you're feeling. You'll find that laughter makes everything better. Getting out in nature is always a good idea too.
Physical discomfort
Purely physical side effects are also common when dealing with a shroom as strong as Penis Envy. Don't worry — these side effects are temporary, and your body will soon go back to its baseline state:
Nausea
Vomiting
Dizziness
Feeling hot
Feeling cold
Once again, don't panic if you experience these side effects. Just do your best to stay comfortable. This too shall pass.
Emotional turbulence
Psychedelics as powerful as Penis Envy can amplify your underlying, deep-seated emotions. You might be surprised by what comes up! You may experience the resurfacing of:
Old trauma
Hidden fears
Heartbrokenness
Once the arc of your trip turns upward, a world of incredibly positive emotions emerges. With death of self comes all sorts of euphoric feelings, including:
Deep joy
Giddiness
New hope
Bubbly laughter
Compassion and love
A bad trip
The infamous 'bad trip' is a possibility whenever one is dealing with psychedelics, especially strong ones like Penis Envy.
Bad trips are characterized by an unsettling feeling of being out of control. If you like being in control, that can be a problem. Other elements of a bad trip include:
Overwhelming anxiety
Heavy breathing
Confusion
You can drastically reduce the possibility of having a bad trip by taking an appropriate dose. And even if you do have one, don't despair. Some psychedelic experts attest that no trip is truly 'bad' when gauged by its long-term effects.
Penis Envy vs. Golden Teacher and Other Mushroom Strains
So far we've explained Penis Envy's origin, characteristics, and potential side effects. Next let's add in another layer of conceptualization by looking at how Penis Envy stacks up against other psilocybin strains!
Penis Envy vs. Golden Teacher
Golden Teacher mushrooms are a classic psilocybin strain with golden-hued caps and gentle, spiritual vibes. While their qualities make Golden Teachers ideal for people who are just getting into psychedelics, this strain is loved by just about everyone.
This shroom isn't just for casual tripping — it can also be used for gaining new insight about yourself, your destiny, and the universe. Golden Teachers are one of the most shamanistic mushroom strains of all. Their uplifting, wavy vibes are coupled with gentle visual enhancements. (At higher doses Goldens can also cause hallucinations.)
As you might have guessed from the above info, Golden Teachers are practically the polar opposite of Penis Envy! They're less than 50% as powerful, tangibly more spiritual, and way more welcoming. If you're new to magic mushrooms, stick with Golden Teachers.
Penis Envy vs. Daddy Long Legs
Don't let the spidery name fool you — Daddy Long Legs are slightly milder than Penis Envy. Expect spiritual, heart-based euphoria coupled with strong visuals and amplified colours. This fun-loving strain is perfect for socializing with family and friends!
Daddy Long Legs may be more potent than Golden Teachers, but they still pale compared to Penis Envy's potency. We recommend them as an excellent choice for anyone still learning how their body responds to psychedelics. On the other hand, suppose you've tried them and are still feeling adventurous. In that case, it might be time to graduate to Penis Envy (just don't replicate your Daddy Long Legs dose).
Penis Envy vs. African Transkei
African Transkei is a small but powerful strain with delicate button caps and gnarly-looking stems. This psilocybin strain has a special honour: it was the first African strain to enter widespread circulation. Named after the breathtaking Transkei region of Africa's Eastern Cape, this magic mushroom encapsulates the spirit of its native Xhosa people, who may have been enjoying it for centuries!
To put it super simply, Transkeis are potent. They more than make up for what they lack in spiritual introspection with spectacular visual effects. Expect lights to twinkle and your skin to tingle! African Transkeis also offer a powerful body high that perfectly complements hikes and other nature outings.
While African Transkeis and Penis Envy differ, approach either strain with a healthy dose of respect. Consider starting with an initial dose of 1 gram just to make sure you like African Transkei's intense visuals. 3.5+ grams should be enough to give you a truly incredible light show.
Penis Envy vs. Arenal Volcano
The Arenal Volcano shroom strain is native to Costa Rica's Arenal Volcano, which enjoys a warm, humid tropical climate. According to legend, native peoples have used this sacred strain since the dawn of time.
Arenal Volcanoes provide an enjoyable balance of warm visuals and spiritual upliftment. Don't be surprised if your heart starts warming up and emanating feelings of oneness and love! Feel free to enjoy this strain solo or with a loving partner. All in all, Arenal Volcanos offer enough versatility to be helpful to beginners and seasoned shroomers alike.
Compared to Penis Envy, Arenal Volcanos are exponentially warmer and more welcoming. Some people like vanilla, some like chocolate! Get a feel for both strains, and you can tailor your selection to the day's mood.
How to Consume Penis Envy Magic Mushrooms
Magic Mushroom tea is a popular way to consume shrooms. Steep dried shrooms in hot water for about 20 minutes, then strain and drink. Mix in some honey and ginger for a nicer flavour. The ginger also helps tone down nausea. Sip slowly for less intense effects, or drink more quickly for a faster-acting, more sustained effect.
Capsules: Dried, ground magic mushrooms are available in the form of capsules. They offer the benefit of not having to taste the shrooms, which definitely have their own flavour! Capsules are the preferred method for micro dosing, but they can be consumed in greater quantities for more intense effects. Capsules are great for ensuring consistent quantities.
Powder: Magic mushroom powder (from capsules) can be added to smoothies, juices, or other drinks.
Chewing/eating dried mushrooms: You can eat magic mushrooms, and this is the most common way to ingest shrooms. But the taste might be a little off-putting for some. Be sure to have something to drink nearby to wash down any shrooms or to clear the taste on your palate. 
Lemon tek: Soak your magic mushrooms in a glass of fresh lemon juice for about 10 minutes, and then eat the wet shrooms. The acidity of the lemon juice starts to break the shrooms down, thus preparing the shrooms for digestion. That way, they digest more quickly and the active ingredients in the shrooms become available sooner. Lemon tek will bring on your trip on more quickly, but it won't last quite as long.
Wrapping Things Up
Penis Envy mushrooms are one of the most iconic varieties of one of the most iconic psychedelics. Their reputation as a potent, purifying shroom couldn't be much better deserved! And while Penis Envy shrooms may not be ideal for beginners, they can be hugely helpful to psychonauts who want to break into new realms of consciousness.
Try them for yourself if you want to reconnect with the real you in the fastest way possible — just as long as you're ready for a potentially wild ride.
How to Use Shrooms safely!
Here are some steps that will make your magic mushroom trip safer:
Start with a low dose: It is always best to start with a low dose and increase gradually as desired. This allows time to gauge tolerance level, reducing the risk of negative experiences. START LOW, GO SLOW as they say!
Be in a safe environment: Because magic mushrooms can cause changes in perception, it is important to trip in a safe and comfortable environment.
Don't mix with other substances: Mixing magic mushrooms with other drugs, alcohol, or medications is a bad idea. Psilocybin can interact with other substances in unpredictable ways and magnify their effects.
Know your source: When buying magic mushrooms, it is crucial to source them from a reliable supplier. Remember you're eating shrooms, so you want to be sure they were cultivated in a clean environment.
Have a positive mindset: Magic mushrooms can amplify emotions. Therefore, if someone is feeling anxious or depressed, it could trigger a bad trip.
Have a "trip sitter": This person remains sober and can provide calm and reassuring support if someone needs help while taking mushrooms.