How to Buy Magic Mushrooms Online in Canada
While magic mushrooms have pretty much always been awesome, the actual process of buying them used to be a pretty sketchy experience.
Thankfully, though, times have changed! These days buying shrooms online is just as easy as buying anything else. If you're wondering how to buy magic mushrooms online in Canada, you've come to the right place.
How to buy magic mushrooms from 3 Amigos
At 3 Amigos we've taken steps to make the ordering process as simple as possible. Here's how it works:
Step 1. Head over to our online shop and select the product(s) you want
Step 2. Unsure of what to get? This blog post will probably help.
Step 3. Pay for your product(s) of choice by using Interac eTransfer from a Canadian bank account
Step 4. Your order will be processed after the e-transfer is received
Step 5. Your order will ship within 1 business day. You'll get a tracking number by email
Step 6. Delivery by Canada Post Xpresspost will take 2-3 business days once it is shipped
Step 7. Your order will arrive, ready to bring you new dimensions of clarity and joy!
4 reasons to buy your shrooms from 3 Amigos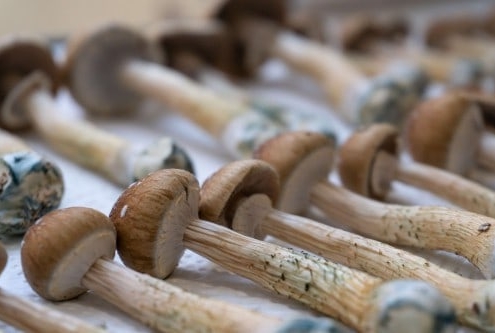 Our streamlined ordering process isn't the only reason you should consider buying your shrooms from 3 Amigos. It's probably the least exciting thing about our company, in fact.
What really matters is quality. All of our psilocybin products are guaranteed to be:
Super high quality
Standardized
Discreet
Fast
Super high quality: Our team has high standards, so only the best psilocybin products actually make it onto our website. These products come from all over the world — Africa, Costa Rica, Australia, and our native Canada — yet they all have one thing in common. We're sure they'll deliver the best user experience!
Standardized: It's not enough to just be enthusiastic about premium shrooms, of course. Maintaining high standards and ensuring nothing slips through the cracks is also paramount. We go through several steps to ensure our products meet our standards for potency and purity.
We package everything in a completely sterile environment that would make the Minister of Health proud. Our shrooms are also sterilized and vacuum-sealed in tamper-proof packaging, so they'll arrive at your house still pristine.
Discreet: We get it — not everyone accepts psilocybin. You might be a seasoned psychonaut, but that doesn't mean your neighbours are!
However, there is no need to worry about nosy neighbours, roommates, or landlords. Your products will come in an entirely discreet package. Only once you open your package will it become apparent that it contains psychedelic substances. We even keep our return address discrete.
Fast: Granted, this last benefit has more to do with product shipping than with your psilocybin products themselves. But it's still essential! We understand you're eager to receive your products, so we ship everything via Xpresspost. In just a few business days, your shrooms will be at your door and ready to enjoy.
How to Consume Magic Mushrooms
Magic Mushroom tea
A popular way to consume shrooms. Steep dried shrooms in hot water for about 20 minutes, then strain and drink. Mix in some honey and ginger for a nicer flavour. The ginger also helps tone down nausea. Sip slowly for less intense effects, or drink more quickly for a faster-acting, more sustained effect.
Magic Mushroom Capsules
Dried, ground magic mushrooms are available in the form of capsules. They offer the benefit of not having to taste the shrooms, which definitely have their own flavour! Capsules are the preferred method for micro dosing, but they can be consumed in greater quantities for more intense effects. Capsules are great for ensuring consistent quantities.
Magic Mushroom Powder
Magic mushroom powder (from capsules) can be added to smoothies, juices, or other drinks.
Eating dried magic mushrooms
You can eat magic mushrooms, and this is the most common way to ingest shrooms. But the taste might be a little off-putting for some. Be sure to have something to drink nearby to wash down any shrooms or to clear the taste on your palate.
Lemon tek
Soak your magic mushrooms in a glass of fresh lemon juice for about 10 minutes, and then eat the wet shrooms. The acidity of the lemon juice starts to break the shrooms down, thus preparing the shrooms for digestion. That way, they digest more quickly and the active ingredients in the shrooms become available sooner. Lemon tek will bring on your trip on more quickly, but it won't last quite as long.
How to Use Shrooms Safely!
Here are some steps that will make your magic mushroom trip safer and more fun!
Start with a low dose: Start with a low dose and increase gradually as desired. This allows time to gauge tolerance level, reducing the risk of negative experiences. START LOW, GO SLOW as they say!
Be in a safe environment: Because magic mushrooms can cause changes in perception, it is important to be in a safe and comfortable environment.
Don't mix with other substances: Mixing magic mushrooms with other drugs, alcohol, or medications is a bad idea. Psilocybin can interact with other substances in unpredictable ways and magnify their effects.
Know your source: When buying magic mushrooms, source them from a reliable supplier. Remember you're eating shrooms, so you want to be sure they were cultivated in a clean environment.
Have a positive mindset: Magic mushrooms can amplify emotions. Therefore, if someone is feeling anxious or depressed, it could trigger a bad trip.
Have a trip sitter: This person remains sober and can provide calm and reassuring support if someone needs help.